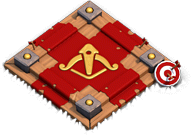 "This graceful huntress is a master destructive force, though modest in health. She snipes targets in her territory when defending, and can summon stealth and terrifying damage when attacking once her Royal Cloak ability is unlocked!"
---


---
---
Trivia

Added with the 10th January 2013 Hero update. 
There is no upgrade difference between levels, its just the Archer Queen that changes.
There are a few arrows sticking out of the Altar, along with a target leaning against the corner of it.
The Builder has his own animation for upgrading the Barbarian King's and Archer Queen's altars. He forms some gold in a furnace near the altar, and hits it with his hammer on an anvil, despite it being made of stone.
The Altar itself can be destroyed with one Lightning Spell of any level.
Ad blocker interference detected!
Wikia is a free-to-use site that makes money from advertising. We have a modified experience for viewers using ad blockers

Wikia is not accessible if you've made further modifications. Remove the custom ad blocker rule(s) and the page will load as expected.