Not available

---

This troop is not available in the current version.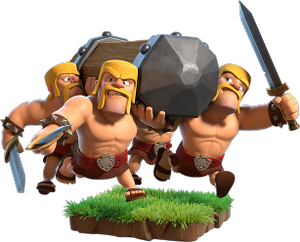 "Four Barbarians holding a big log race ahead to batter down their target, dealing big bonus damage if they connect; then they fight on with their swords!"
---

Level 1
---
---
---
, the Battle Ram deals
damage and has
hitpoints. Its spawned Barbarians, in the Battle Ram's first appearance, did
damage per second and had
health. In the Battle Ram's second appearance, its spawned Barbarians do
damage per second and has
health.
Battle Ram
Training Time of Battle Rams
Number of level 3 or higher Barracks that aren't under upgrade
Training Time
1
2 minutes
2
1 minute
3
40 seconds
4
30 seconds
| Town Hall Level | Damage | Damage vs. Walls | Hitpoints |
| --- | --- | --- | --- |
| 1 | 115 | 460 | 90 |
| 2 | 142 | 568 | 111 |
| 3 | 168 | 672 | 132 |
| 4 | 195 | 780 | 153 |
| 5 | 222 | 888 | 174 |
| 6 | 249 | 996 | 195 |
| 7 | 276 | 1,104 | 216 |
| 8 | 303 | 1,212 | 237 |
| 9 | 330 | 1,320 | 258 |
| 10 | 357 | 1,428 | 279 |
| 11 | 384 | 1,536 | 300 |
Barbarian
| Preferred Target | Attack Type | Movement Speed | Range |
| --- | --- | --- | --- |
| Any | Ground | 16 | 0.4 tiles |
| Town Hall Level | Damage per Second | Damage per Attack | Hitpoints |
| --- | --- | --- | --- |
| 1 | 9 | 9 | 37 |
| 2 | 11 | 11 | 46 |
| 3 | 13 | 13 | 55 |
| 4 | 15 | 15 | 63 |
| 5 | 17 | 17 | 72 |
| 6 | 19 | 19 | 81 |
| 7 | 21 | 21 | 90 |
| 8 | 23 | 23 | 98 |
| 9 | 25 | 25 | 107 |
| 10 | 27 | 27 | 116 |
| 11 | 30 | 30 | 125 |