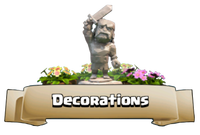 Decorations
are purely aesthetic objects. They have no active purpose in the defense or production of your
village
. Funneling, as of the
March 2013 update
, which allows troops to be placed upon decorations, is no longer possible using these items. It is possible, however, to use other buildings to funnel such as
builder's huts
and
army camps
.
Decorations serve no real purpose except that the troops have to spawn slightly beside the decorations (the grassy place) when deployed.
The building times for all decorations are instantaneous.
Players do not need an available builder to place or build decorations.
Decorations can be sold to retrieve 10% of the purchase price for the item(s).
Clan Castle troops cannot be placed (deployed) on decorations although any other troops can.
---
Icons Description

- Pressing this icon sells the selected decoration.
| Decoration | Image | Cost | Number Available | Level Unlocked |
| --- | --- | --- | --- | --- |
| Torch | | 500  | 4 | 1 |
| White Flag | | 5,000  | 1 | 5 |
| Cornflower Bed | | 2,500  | 4 | 8 |
| Sunflower Bed | | 2,500  | 4 | 8 |
| Weather Vane | | 10,000  | 1 | 10 |
| Rally Flag | | 15,000  | 1 | 12 |
| Point Flag | | 15,000  | 1 | 12 |
| National Flag (Norway) | | 100,000  | 1 | 15 |
| National Flag (Thailand) | | 100,000  | 1 | 15 |
| National Flag (India) | | 100,000  | 1 | 15 |
| National Flag (Australia) | | 100,000  | 1 | 15 |
| National Flag (South Korea) | | 100,000  | 1 | 15 |
| National Flag (Japan) | | 100,000  | 1 | 15 |
| National Flag (Turkey) | | 100,000  | 1 | 15 |
| National Flag (Indonesia) | | 100,000  | 1 | 15 |
| National Flag (Netherlands) | | 100,000  | 1 | 15 |
| National Flag (Philippines) | | 100,000  | 1 | 15 |
| National Flag (Singapore) | | 100,000  | 1 | 15 |
| National Flag (Russia) | | 100,000  | 1 | 15 |
| National Flag (Denmark) | | 100,000  | 1 | 15 |
| National Flag (Greece) | | 100,000  | 1 | 15 |
| National Flag (China) | | 100,000  | 1 | 15 |
| National Flag (Sweden) | | 100,000  | 1 | 15 |
| National Flag (Brazil) | | 100,000  | 1 | 15 |
| National Flag (United Kingdom) | | 100,000  | 1 | 15 |
| National Flag (France) | | 100,000  | 1 | 15 |
| National Flag (Spain) | | 100,000  | 1 | 15 |
| National Flag (Finland) | | 100,000  | 1 | 15 |
| National Flag (Germany) | | 100,000  | 1 | 15 |
| National Flag (Italy) | | 100,000  | 1 | 15 |
| National Flag (Canada) | | 100,000  | 1 | 15 |
| National Flag (United States) | | 100,000  | 1 | 15 |
| Ancient Skull | | 500,000  | 1 | 30 |
| Statue of P.E.K.K.A | | 1,000,000  | 1 | 75 |
| Pirate Flag | | 500  | 1 | 1 |
| Mighty Statue | | 500  | 1 | 1 |