Defensive Buildings - Resource Buildings - Army Buildings - Other Buildings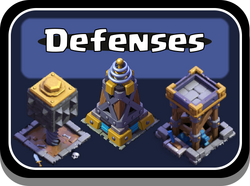 ---
---
In Clash of Clans, having a strong defense is as important as having a capable offense. In many ways, defense is even more important.
Defenses serve to protect your Builder Base and prevent as much damage as possible. Each defense has its own strengths and weaknesses, and its location in your village should reflect that. For instance, the powerful Crusher deals loads of damage to groups of units, but it can't attack air troops at all - so it should be placed in the center of your village with adequate protection from Air Bombs and Firecrackers. On the other hand, Cannons and Archer Towers deal lesser amounts of damage to groups (as they can target and hit only one unit at a time) but attack quicker and work as an effective first line of defense.
Ad blocker interference detected!
Wikia is a free-to-use site that makes money from advertising. We have a modified experience for viewers using ad blockers

Wikia is not accessible if you've made further modifications. Remove the custom ad blocker rule(s) and the page will load as expected.