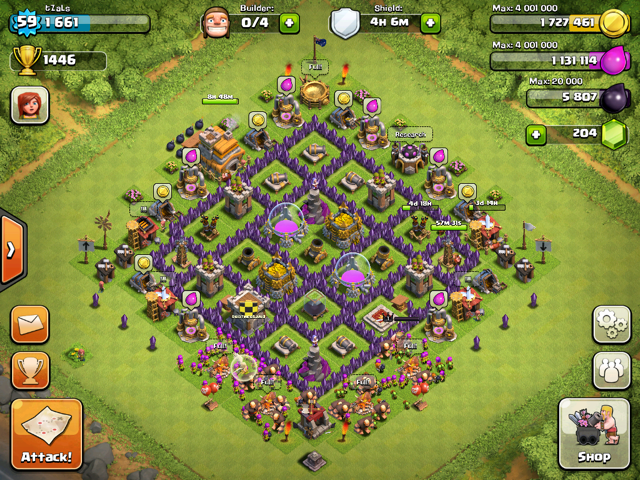 No higher resolution available.
Thanks
You're right, it is best not to expose air defenses on the sides of your bases or place all eggs in one basket. It was  difficult for me to put them inside and centralized as I had more important defense buildings and storages to protect that I could not swap. So take and give it overall was a good base in the sense that it was difficult to 3 star with ground troops, and secondly if they tried to take out one air defense on one side that was heavily guarded, they didn't have enough time to wipeout the second air defense which was at the other end.
Take a look at my TH8, my clan is 'aVantGarde X' and let me know what you guys think. I will be uploading my TH8 soon after all defenses are maxed, cheers!
TZaLs 05:58, July 8, 2013 (UTC)
Lets see about this base
This layout is good there is only one problem the air defences are to exposed this will lead to the temptation of people who use air units to stomp on you. I would suggjest puting the air defence more in the center BUT NOT IN THE SAME POCKET!!! rarange it as you feel once you have done this over all it is a very goood base exept for the one prt specifyed.
My opinion
Yes i agree with the above person in that sense maybe exchange the air defense for the more outside gold and elixir storages. This layout is a beast for protecting resources but not so much in terms of trophies. If you have maxed out everything and are upgrading your TH7 to TH8 than this is the layout for you. The Solardude out!
Appears on these pages

of
Hi! I'm Casklord (IGN Lord). Welcome to my guide, I hope that it helps! Get the "Sweet Victory...

This is my page! A note to be read: Please don't apologise to me unless: You bully me, got me...
File history
Click on a date/time to view the file as it appeared at that time.