Overview
These videos cover the troops, how they work and how best to use them.
The P.E.K.K.A
The P.E.K.K.A.! Learn all about this fearsome female fighter.
The Healer
The Healer! Learn all about this Winged Warrior of Wound Wrapping.
The Archer
The Archer! Learn all about this arrow-wielding assassin.
The Golem
The Golem! Learn all about this marvelous magma monstrosity.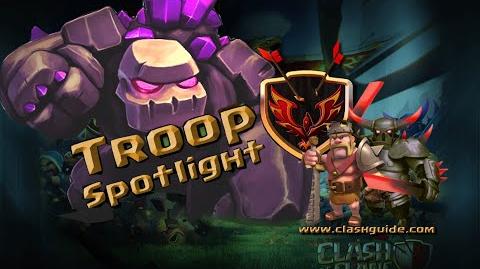 The Lava Hound
Lava Hounds are taking fiery flight everywhere. Make sure that you are using them correctly.
Feedback
Was the Strategy Guide "Galadon's Strategy Guides/Troop Spotlights" useful?
If this Strategy Guide contains any inappropriate content, please report it here: Clash of Clans Wiki:Report
Ad blocker interference detected!
Wikia is a free-to-use site that makes money from advertising. We have a modified experience for viewers using ad blockers

Wikia is not accessible if you've made further modifications. Remove the custom ad blocker rule(s) and the page will load as expected.