This page has been locked.
Only registered members may add content to this page.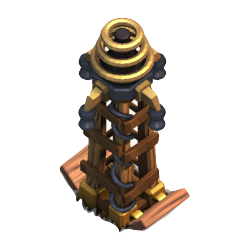 "Lay a deadly trap with the Hidden Tesla! Our Wizards have trapped a storm cloud into each of these sneaky towers. When an enemy walks or flies close enough, the tower springs up and fries it using the power of Electrickery!"
---
| | | | | | | |
| --- | --- | --- | --- | --- | --- | --- |
| | | | | | | |
| Level 4 | | Level 5 | | Level 6 | | Level 7 |
---
---
---
---
| Level | Damage per Second | Damage per Shot | Hitpoints | Cost  | Build Time | Experience Gained  | Town Hall Level Required |
| --- | --- | --- | --- | --- | --- | --- | --- |
| 1 | 34 | 20.4 | 600 | 1,000,000 | 2 days | 415 | 7 |
| 2 | 40 | 24 | 630 | 1,250,000 | 4 days | 587 | 7 |
| 3 | 48 | 28.8 | 660 | 1,500,000 | 6 days | 720 | 7 |
| 4 | 55 | 33 | 690 | 2,000,000 | 8 days | 831 | 8 |
| 5 | 64 | 38.4 | 730 | 2,500,000 | 10 days | 929 | 8 |
| 6 | 75 | 45 | 770 | 3,000,000 | 12 days | 1,018 | 8 |
| 7 | 87 | 52.2 | 810 | 3,500,000 | 14 days | 1,099 | 9 |
| Range | Attack Speed | Damage Type | Unit Type Targeted | Preferred Target | Size |
| --- | --- | --- | --- | --- | --- |
| 6 then 7 | 0.6s | Single Target | Ground & Air | P.E.K.K.A (damage x2) | 2x2 |