Not available

This troop is not available in the current version.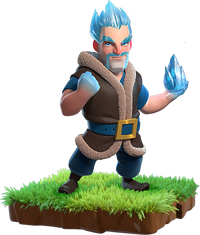 "This Legendary wizard slows down enemy defenses with destructive shards of ice!"
---
Level 1
---
Summary

The Ice Wizard was the third gift the players get in the "3 days of Clashmas" event occurring in the time period around Christmas 2016, with the Santa's Surprise returning as the first gift and the Freeze Trap as the second. It was available from UTC 10:00 30/12/16 through UTC 10:00 6/1/17.
Ice Wizards prioritize defensive structures above all other targets, and will bypass all other types of enemy buildings and troops while any defenses remain on the battlefield. This is true even if they are under attack by enemy Clan Castle troops, heroes or Skeleton Trap skeletons. Note that like all troops that prioritize defenses, Ice Wizards do not consider the Clan Castle to be a defense regardless of whether or not it contains enemy troops, but do consider the defending Grand Warden to be a defensive building.
Once all defenses are destroyed, Ice Wizards become like any other troop with no preferred target; they will attack the nearest building to them regardless of type, and will turn and attack enemy units if they become aware of any nearby.
---
Offensive Strategy

Unlike the Clash Royale counterpart, the Ice Wizards prioritize defenses, so they're basically incapable of taking out defending Barbarian King, Archer Queen, Clan Castle Troops or Skeleton Trap Skeletons, unless they are positioned very close to a defense that the Ice Wizard is targeting.
---
Trivia

You could have a maximum of 60 Ice Wizards at one time in a complete set of fully upgraded Army Camps. On the battlefield, you could clone an additional 16 Ice Wizards with two fully upgraded Clone Spells.
The Ice Wizard can't be donated, due to being temporary.
The Ice Wizard is the third troop and the first temporary one to be directly transferred from one of Supercell's other games, Clash Royale.

The word "Legendary" in the description could refer to the Legendary rarity of the Clash Royale Ice Wizard. However, the word "Legendary" doesn't appear in the Clash of Clans Miner's or Lava Hound's description.

The Ice Wizard can't be upgraded in the Laboratory, but automatically gets "upgraded" when the Town Hall is upgraded, due to being temporary. At Town Hall level n, the Ice Wizard has hitpoints and DPS, while each hit does damage.

At the same Town Hall level, three hits from the Ice Wizards do the same damage as the Santa's Surprise.

At Town Hall 5-7, the Ice Wizard's DPS and hitpoints are both higher than those of their Wizard's. Also, at Town Hall 11, the Ice Wizard's DPS ties with the Wizard while hitpoints are still higher than the Wizard.
There was a mini-achievement during the limited time period of the Ice Wizard. Players needed to win at least three multiplayer battles, each with at least one fifth of total Army Camp housing space being Ice Wizards, to claim 300 Experience and 30 Gems.
After the Ice Wizard became unavailable to train, anyone who had trained the troop but had not used it would still have it in their Army Camp.
Training Time of Ice Wizards
Number of level 7 or higher Barracks that aren't under upgrade
Training Time
1
2 minutes
2
1 minute
3
40 seconds
4
30 seconds
| Town Hall Level | Damage per Second | Damage per Attack | Hitpoints |
| --- | --- | --- | --- |
| 5 | 116 | 174 | 116 |
| 6 | 130 | 195 | 130 |
| 7 | 144 | 216 | 144 |
| 8 | 158 | 237 | 158 |
| 9 | 172 | 258 | 172 |
| 10 | 186 | 279 | 186 |
| 11 | 200 | 300 | 200 |
Ad blocker interference detected!
Wikia is a free-to-use site that makes money from advertising. We have a modified experience for viewers using ad blockers

Wikia is not accessible if you've made further modifications. Remove the custom ad blocker rule(s) and the page will load as expected.