THIS IS ONE OF KOBKANNON'S STRATEGY GUIDES. PLEASE BE RESPECTFUL AND DO NOT ADD, DELETE, OR CHANGE ANY SECTIONS OF THE GUIDE WITHOUT KOBKANNON'S PERMISSION.
Hello, this is KobKannon's guide for newbies. Constructive criticism welcome. 
Getting Started
You start off with 500 gems, 250 of which you are forced to use during the tutorial. You can also use gems to speed up building of cannons and resource buildings. Though it takes a bit longer, every gem counts. That is why i recommend not using the eight gems to speed up buildings. Those can be used later if you wish. After the tutorial, I recommend maxing out everything before upgrading your Town Hall to Level 3. This makes the use of your gold and elixir more efficient. 
Your First Raid
Your first raid will probably be easy. Try to find someone without walls. Place your barbarians (and archers if you have them, though that is unlikely unless you wait awhile) near the defences. Taking out the defences first is a good strategy because it means there will be nothing to attack your troops. This then means that you have basically already won the raid unless your time runs out. As your first raid, you should probably attack people with a trophy range of 0-100.
Your Base
Defensive Buildings
Protecting your base is just as important as destroying other people's bases. Place your cannon in a place where it will cover as much space as possible. If you tap on on of your defenses, a circle will appear with the defensive building as the origin of the circle. This circle is the range of the defensive building. That means that that is how far it can attack. Any attacking troops on the outside of that circle cannot be attacked by the defensive building. If you have multiple defensive buildings, try to make them together cover all your buildings.
Organization
Place your Town Hall in the center of your base. If you have walls, make sure you surround your important buildings. Buildings such as builder's huts, army camps, and barracks do not need to surrounded by walls as they are less important.
Newbie Base Examples
Here are some examples of good and bad newbie bases: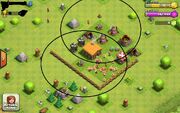 ←
This is a good newbie base. The defensive buildings are spread apart to cover much more space. (These circles are only an approximation. Just FYI.)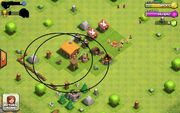 ←
This is a bad newbie base. The defensive buildings are compacted to close together and don't cover nearly as much area as the defensive buildings in the first photo.
Upgrades
I recommend not upgrading anything until you have an Archer Tower, which costs 1000 Gold. Also, the first thing I would upgrade once you have the Archer Tower would be the Archer Tower itself. The Archer Tower has more range than cannons. After you've upgraded these, upgrade the cannons, then your Gold and Elixir storages, then your Gold Mines and Elixir Collectors.
Feedback
Was the Strategy Guide "KobKannon's Strategy Guides/Newbie Guide" useful?
If this Strategy Guide contains any inappropriate content, please report it here: Clash of Clans Wiki:Report
Ad blocker interference detected!
Wikia is a free-to-use site that makes money from advertising. We have a modified experience for viewers using ad blockers

Wikia is not accessible if you've made further modifications. Remove the custom ad blocker rule(s) and the page will load as expected.