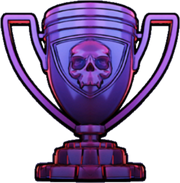 Introducing the Legend League at 5,000 Trophies and a new, monthly Legend League Tournament in the Top Players list.
---

---

About Legend League Tournaments

Your final global rank and trophies will be permanently saved to your profile when the Tournament ends.
The Top Player tab will feature last season's Legend League Tournament winners.
Trophies above 5,000 will be reset down to 5,000 when the Tournament ends, and deducted trophies will be converted into Legend trophies.
Legend trophies will be permanently featured in your profile and cannot be lost.
---
Trophy Resetting

At the end of every Legend League Tournament season, everyone's final standings will be recorded, featured throughout the game, and Legend League players who are above 5,000 trophies will have their trophy count reset to 5,000.
Every month, all Legends get a fresh start and another chance to push for global rank #1.
---
Where The Trophies Go?

Legend trophies permanently preserve the extra trophies that get reset to 5,000 at the end of each Legend League Tournament season.
Legend trophies will accumulate season after season, and nothing will ever reset or reduce Legend trophies.
Legend trophies are visible to everyone else.
---
Trivia

Legend League Tournament players will be featured on the global Top Players list for the entire next season after that tournament ends.
The first player to get into the Legend League was shaheen uae on 4 July 2015.