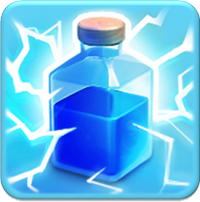 "Electrocute your enemies with bolts of lightning!
Cast this spell at the enemy village to damage buildings and units inside a small area."
---
Summary

The Lightning Spell is the first spell unlocked from the Spell Factory, and is automatically unlocked once the Spell Factory has finished construction.
---
---
Trivia

The Lightning Spell used to take 2 hours to make, but it was reduced in an update to 1 hour. The update on 17 Apr 2013 further reduced the creation time to 30 minutes.
Supercell posted a teaser on it: Lightning Spell Video
The Lightning Spell's total damage goes up by 30 points after every upgrade.
It takes 2.4 seconds for all the lightning bolts to strike.
Currently, the Lightning Spell is the only available spell that can damage buildings directly. Every other spell either enhances your own Troops or alters defensive building behavior without actually causing damage.
Although the Lightning Spell can be upgraded to level 2 in the level 1 Laboratory, only Troops and Spells that are already unlocked will appear in the Laboratory upgrade interface. The Lightning Spell will not appear in the Laboratory until the Spell Factory is built (which requires Town Hall level 5). Most players already have a level 3 Laboratory by that time; if so, the first three upgrades will be available as soon as construction of the Spell Factory finishes.
Similar to the Bomb and Giant Bomb, the Lightning Spell leaves black scorch marks where the lightning hit, which remain for a few seconds.
During the 2013 and 2014 Halloween event, the spark effect which the Lightning Spell normally produced was temporarily replaced with a swarm of bats.
Five level 6 Lightning Spells can take out a level 4 or lower Town Hall; however, this isn't a recommended strategy.
| Radius | Random Radius | Number of Strikes | Time Between Strikes | Time to Create | Spell Factory Level Required |
| --- | --- | --- | --- | --- | --- |
| 2 tiles | 3.5 tiles | 6 | 0.4s | 30 minutes | 1 |
| Level | Total Damage | Damage per Strike | Cost | Upgrade Cost | Upgrade Time | Laboratory Level Required |
| --- | --- | --- | --- | --- | --- | --- |
| 1 | 300 | 50 | 15,000 | N/A | N/A | N/A |
| 2 | 330 | 55 | 16,500 | 200,000 | 1 day | 1 |
| 3 | 360 | 60 | 18,000 | 500,000 | 2 days | 2 |
| 4 | 390 | 65 | 20,000 | 1,000,000 | 3 days | 3 |
| 5 | 420 | 70 | 22,000 | 2,000,000 | 4 days | 6 |
| 6 | 450 | 75 | 24,000 | 8,000,000 | 14 days | 8 |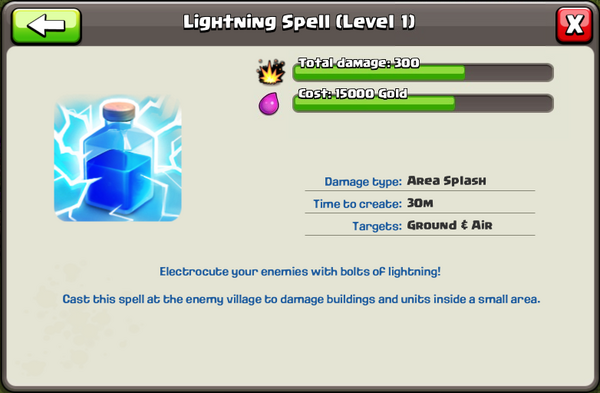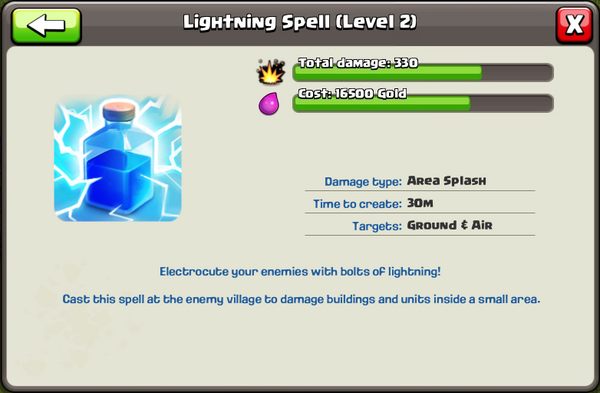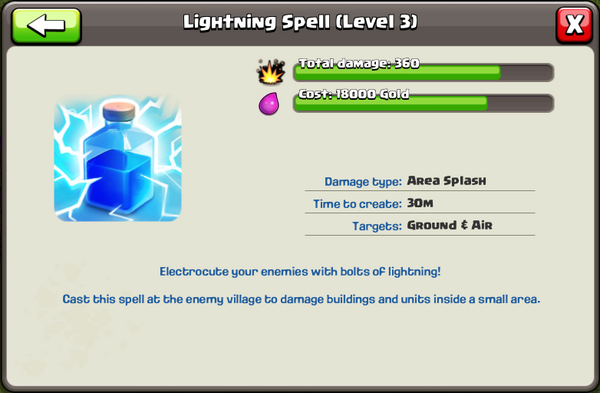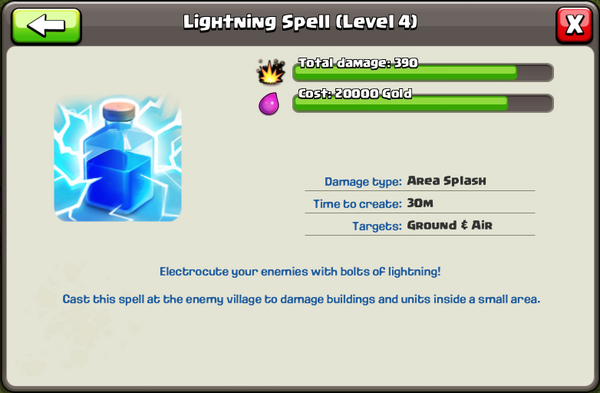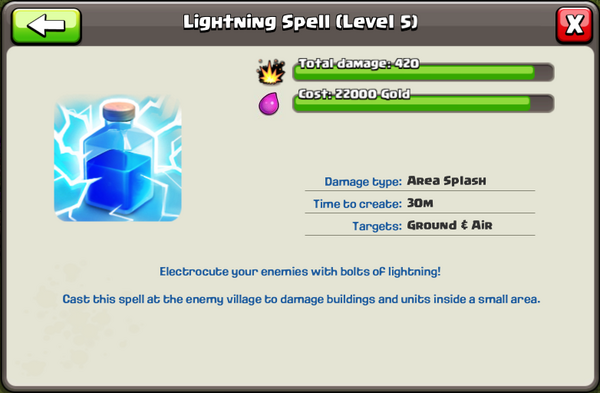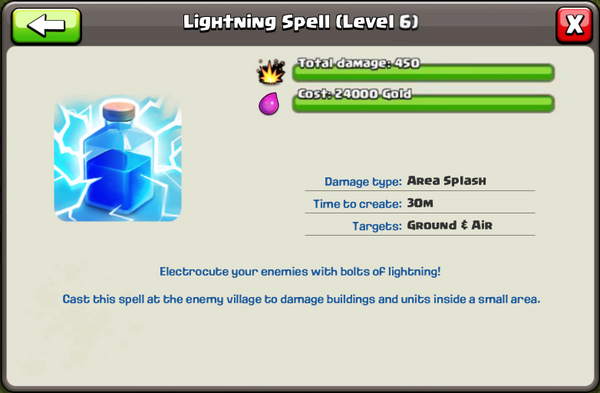 ‹
›