Wiki Reports
→
Report:the spell page section shows the "personal pages" tab instead of spells
What is your username? -Ross37

Please explain your report: -ok, i scrolled down to see if any spells needed to edit on the tab there. And i noticed it was actually listing Wiki Rules, Polices etc.
Any other information: -
---
Staff Response: - Please explain yourself in a way that we can understand. Scrolled down? What tab where?  Infinity323  Message Wall  Blog  Contribs  Rules and Policies   19:50, August 24, 2015 (UTC-5) 
---
Ok. Go to buildings/troops Go under spells. It shows "Wikia Rules" "Wikia Policies" etc. ~~~
---
No it doesn't.
Bradyb1999 Message Wall Staff Wikia Rules Wikia Clan
---
My computer is retarded :P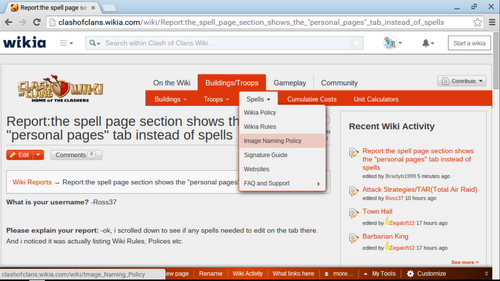 ---
I'll talk to staff about the issue, even though it doesn't happen to me
Ad blocker interference detected!
Wikia is a free-to-use site that makes money from advertising. We have a modified experience for viewers using ad blockers

Wikia is not accessible if you've made further modifications. Remove the custom ad blocker rule(s) and the page will load as expected.