Wiki Requests
→
Request:Addition of my picture to the lists of defenses - Accepted
What is your username? -Alex81657

Please explain your request: - Please add my TH8 to the page on defenses.
Any other information: -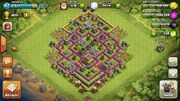 I'm not sure what you mean by 'page on defenses', are you talking about the Layouts page?
-Lugia 00:22, August 30, 2013 (UTC)
Your request has been accepted. Your base is in Layouts page.
 Badw0lf007  Talk  Contribs  Clash of Clans   
One question, you could have added the picture yourself, the page is open to public.
Ad blocker interference detected!
Wikia is a free-to-use site that makes money from advertising. We have a modified experience for viewers using ad blockers

Wikia is not accessible if you've made further modifications. Remove the custom ad blocker rule(s) and the page will load as expected.