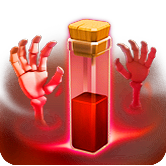 "Summon an army of Skeletons anywhere on the battlefield!
Put a few extra swords when and where you need them most. Skeletons do not trigger traps."
---
Summary

The Skeleton Spell is a Dark Spell unlocked when the Dark Spell Factory is upgraded to level 4, which requires Town Hall level 9.
When used, it spawns several Skeletons on the battlefield. These Skeletons are very weak, but can provide a good distraction.
Like Skeletons summoned by Witches, they do not trigger traps or Clan Castle troops.
---
---
Trivia

The Skeleton Spell was added in the May 24th update.
The Skeletons spawned by the Skeleton Spell have the same stats as those spawned by Witches and Skeleton Traps.
The 12th October update reduced its brewing time from 5 minutes to 3 minutes

It also revamped the mechanics of the Skeleton Spell: instead of spawning Skeletons all at once, it spawned Skeletons over time.

During late October 2016, the Skeleton Spell's brewing cost was temporarily reduced and its brewing time changed to 1 minute to celebrate Halloween.
The Skeleton Spell could have been inspired by Skeleton Army in Clash Royale. On 28/10/16, the Graveyard was added to Clash Royale, and share similar mechanics to the changed Skeleton Spell, as they're both spells which summon Skeletons gradually (rather than all at once).
| Radius | Housing Space | Brewing Time | Targets | Dark Spell Factory Level Required |
| --- | --- | --- | --- | --- |
|  ? tiles | 1 | 3 minutes | Ground | 4 |
Skeleton Stats

| Preferred Target | Attack Type | Movement Speed | Attack Speed | Range | Damage of each Skeleton | Hitpoints of each Skeleton |
| --- | --- | --- | --- | --- | --- | --- |
| None | Melee (Ground Only) | 24 | 1s | 0.4 tiles | 24 | 30 |
Ad blocker interference detected!
Wikia is a free-to-use site that makes money from advertising. We have a modified experience for viewers using ad blockers

Wikia is not accessible if you've made further modifications. Remove the custom ad blocker rule(s) and the page will load as expected.