Current Sneak Peeks
The new Lightning Spell level 7 ravages buildings and troops alike! See it in action: http://supr.cl/Lightning7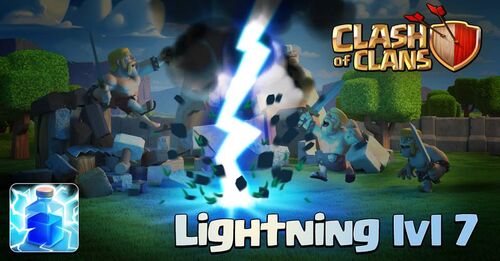 Forum exclusive: The Army Overview button is now also visible from the Clan War map
---
Improved Lightning, Poison, Earthquake and Freeze spells! Check out the changes we made: http://supr.cl/SpellsReworked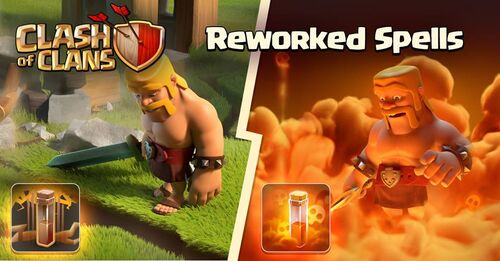 Forum exclusive: Freeze Spells now also affect defending air troops
---
Twenty-five new Wall pieces have been added to Town Hall level 10! And check out the brand new look of the level 11 walls, goodbye electric blue! More info here: http://supr.cl/Walls25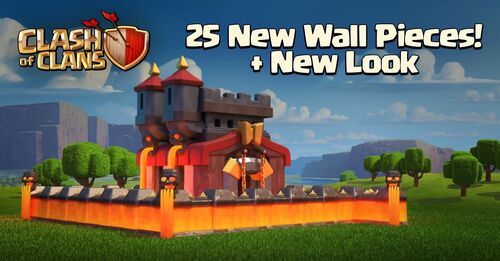 Forum exclusive: Lava Hounds can no longer target air troops
---
Total Destruction is now a Clan Wars tiebreaker – if the score is even at the end of the war, the Clan with more destruction percentage in their best attacks will be the victor! More info here: http://supr.cl/WarTiebreaker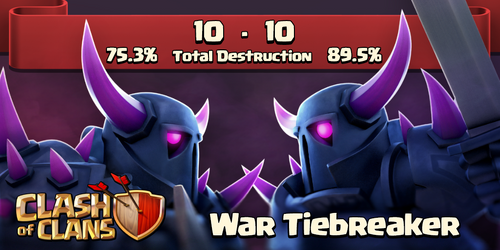 Forum exclusive: Titan III and Titan II Leagues can now buy 1 week shields from the Shop
Previous Sneak Peeks
June 2015 Sneak Peeks
Dragon level 5 sets its golden gaze on Town Hall 10!
Forum exclusive: A second Air Sweeper will help clear the skies, starting at Town Hall 9!
Forum exclusive #2: Train your army with a new Training button just above Attack - no more Barracks-hunting!
---
New Leagues are here, including the Legend League Tournament and Legend Trophies!
Forum exclusive: Legend League Tournaments are a new challenge for top players! Read a note From the Dev's Desk: Legend League Tournaments

---
The Dark Spell Factory is here! Harness Dark Elixir to make spells with advanced tactics, starting at Town Hall 8
Poison spell: Make a toxic cloud that slows and drains the health of defending troops
Forum exclusive: Extra Spells can now be queued in Spell Factories, even if your Spell Storage is full!

---
Earthquake Spell: Rattles away the hitpoints from buildings and Walls!
Forum exclusive: All resource storages are now immune to all direct spell damage!
Forum exclusive #2: You can now filter offensive Clan Chat by enabling the Clan Chat Filter in the Settings.
---
Haste Spell: The fastest speed boost ever, at half the storage space of a Rage Spell!!
Forum exclusive: Arabic and Traditional Chinese languages are now supported!
---
April 2015 Sneak Peeks
Coming soon: Name change and more! Stay tuned for Sneak Peeks!!
---
Clan Bookmarks! Bookmark up to 30 Clans, compare and view them easily at any time!!
Forum exclusive: Clan chat now shows when Clan settings are changed, indicating who changed them.
---
Push back groups of flying enemies with a brand new defense: The Air Sweeper!
Forum exclusive: You are now more likely to find targets at or near your Town Hall level in multiplayer matchmaking.
February 2015 Sneak Peeks
Introducing the Cannon level 13! It packs a punch and takes a lot of damage!
Forum exclusive: Healers no longer trigger air traps - just keep clear of Air Defense!
---
Make your clan stand out! Craft a clan badge with your choice of pattern, background and border!
Clan Castle troop deployment is no longer prevented by tapping on obstacles or decorations.
---
Soon your clan has full control of Clan Wars!
Forum exclusive: See a preview image of any player's Village from their profile, without having to visit.
---
Clans are leveling up! :) Level up your clan and earn perks, prestige and fancy badges!
Introducing: Clan Perks http://supr.cl/ClanPerks
Christmas 2014 Sneak Peeks
---
If you see these magical trees, don't cut them just yet - are they growing presents?
Under attack? You can now watch a live replay while waiting to load your Village!
---
---
The weather forecast in Clash predicts ARROW showers!! Twice the arrows, but each does half the damage! Old vs. New: http://supr.cl/ArcherTower
Inferno Tower engineering 2.0 – soon your Inferno Towers will shoot for a longer time with the same amount of Dark Elixir!
---
He's big, he's furious and he's coming soon! Level 7 Giants are stomping into Town Hall 10!!
Hero ability icons now show remaining hitpoints and will start flashing when low - use their ability to recover some HP!
Compare your clan to others in clan local leaderboards!
---
Save multiple layouts for your Village and War Base!! Switch, copy and edit layouts at any time - even finish later!
Halloween 2014 Sneak Peeks
---
A spooky update will soon descend upon Clash! What is underneath that headstone…?
The Halloween 1-gem Spell Factory boost will be back! What other tricks and treats lie in store?
---
Maintenance break = automatic boost pause (Spells, Barracks & Heroes). Remember to tap the "Resume" button when you go online to keep the boost going! #ComingSoon
Soon all army boosts will pause automatically when the game goes to maintenance. Check out how it works!
---
New clan settings & advanced clan search! Set a location (by country or international), war frequency, member count and more!
Clan search improvements!! Search other Clans by war frequency, location, member count and trophy limit!
---
Soon each clan will have a unique tag! Having troubles finding a specific clan? Do a search via hashtag and get the exact result you need!
---
Last but not least: the Skeleton Trap! Ambush and distract your enemies with a small group of Skeleton troops!
Source: Clash of Clans Facebook
September 2014 Sneak Peeks
---
Soon you can upgrade a row of walls in one go! Walls level 6+ can also be upgraded with Elixir instead of Gold - your choice!!
---
Take BARCHing to a whole a new level! Level 7 Barbarians and Archers coming soon to a barracks near you!
---
Coming soon to a village near you, Dark Barracks level 6!!! I wonder what's training inside...
---
Sneak Peek 4
What's this creature that hides in the dark?
---
Introducing: The Lava Hound!!! This pyrotechnic pooch loyally targets the nearest Air Defense!