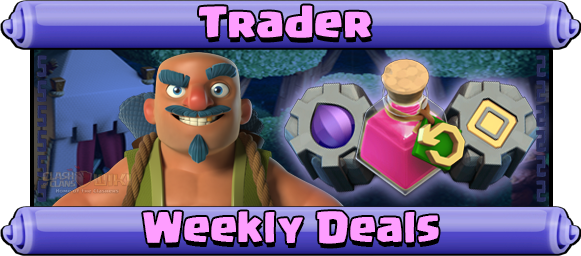 ---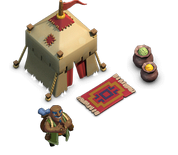 Summary

The Trader is a non-combatant which sells Magic Items for Gems.
He starts appearing in the Home Village once the player has upgraded their Town Hall to level 8. He sets up shop to the left of the Clan Path (from the player's view).
When the Trader is present, he stands outside of his shop, and shows the player the Magic Item he has by getting it out of his pocket.
---
List of Offers

Every day, he appears with three different offers. The offers may cost varying amounts of Gems, even amongst Magic Items of the same type.
At the bottom of the Trader window, there will be a timer showing how much time is left before new offers appear.
If the player has not enough room for the Magic Items that the Trader has on offer, these offers cannot be bought, citing "No space in Clan Castle" as a reason. The player must free up space if he/she wants to buy these offers, either by selling or using the excess Magic Items.
Below is a list of offers currently available from the Trader.
| Magic Item | Name | Price |
| --- | --- | --- |
| 1x | Training Potion | 25 or free |
| 1x | Resource Potion | 115 |
| 1x | Builder Potion | 285 |
| 2x | Builder Potion | 570 |
| 1x | Power Potion | 300 |
| 5x | Wall Ring | 500 |
| 10x | Wall Ring | 1,000 |
| 1x | Book of Heroes | 500 |
| 1x | Book of Fighting | 925 |
| 1x | Book of Spells | 925 |
| 1x | Book of Building | 925 |
| 1x | Rune of Gold | 1,500 |
| 1x | Rune of Elixir | 1,500 |
| 1x | Rune of Builder Gold | 1,400 |
| 1x | Rune of Builder Elixir | 1,400 |
---
Trivia

If the player is below Town Hall 8 and has not yet unlocked the Trader, a sign with a rolled up rug is left in his place.
Once all 3 Magic Items have been purchased, a render of the Trader's setup is revealed.
Offer one is always the Training Potion, and can be claimed for free once every week.
Offer two is always the Resource Potion.
If the player has unlocked the Trader without having rebuilt the Clan Castle, he/she can still purchase Magic Items from the Trader, and use them where relevant. The player, however, will not be able to view his/her inventory of Magic Items until the Clan Castle is rebuilt.

The player will still be constrained by the limits of storing Magic Items as if he/she had a Clan Castle, however. If the player reaches this limit, the player will still see the message "No space in Clan Castle" despite not having rebuilt it.