I have found a great base that works against any level hogs, for those of u that dont have infernos.
the traps have to be in the right spot or this wont work, same with the defenses. the idea is to make the hogs run all the way around the outside, this works best with upgraded giantt bombs :P 
P.S this also works great against giants.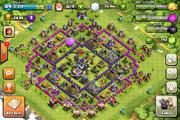 Ad blocker interference detected!
Wikia is a free-to-use site that makes money from advertising. We have a modified experience for viewers using ad blockers

Wikia is not accessible if you've made further modifications. Remove the custom ad blocker rule(s) and the page will load as expected.