Sith Empire..original sith clan created by Paul after we broke off another clan many months ago. Hit top 200 on last trophy push. Has created 9 feeders/sister clans. High Elders and best sith memebers stay here.
L100+ to join
On Pushes you need to be Masters 3 or higher
Elder is earned if you have been loyal, join sith chat ( on an app called line ) and have donated 2,000 troops in a season.
Co-leader is only given to most trusted. :P
Sith Gardens...Created 2/13/14
Farming clan for sith empire, best sister clan.
Elders+ from empire get co only, others get elder for 1,500 donations per season.
L75+ to join
Get that Gold Grab up!!!
Sith Academy....best feeder clan to Sith Gardens and Sith Empire
Think you good enough for empire? find out here!
L70+ to join
Learn the way of the Sith.
Become one of us!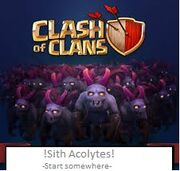 Sith Acolytes...Feeder for Sith Academy
New to the game? New to Sith? Join here and work your way up!
L60+
Some high level players here to help you grow as fast as possible.
Relax and level up!
Sith also conrtols "Fallen Sith" clan for offline/on vacation sith memebers from any sith clan.
Sith Champions, one of the newest sith clans, donation clan join here to Level up fast and get a high "friend in need" This clan is on hold for the moment.
The Sith Lords, first alliance made clan (one not founded by us but that joined us) L90+ to enter, they have a feeder, sith aprrentice
Sith defiance, second allaince clan, also has its own feeder, check the clan for details.
Sith Mace, small private clan, mainly used for war. L90+
Shadow of sith, elite TH9 exclusive clan. made to be our clan war fighting machine. bringing fame, and pain! must be a master of attacking and have a close to maxed base. 
Sith members may be invited to join our "Line" chat, group/private texting app, to keep in touch, send out notices to members/Leaders in other clans, and just chat :) 
Join the action now! and give us a 24hr try, best clan of cool fun peeps i have ever met :D
!Clash On!
Ad blocker interference detected!
Wikia is a free-to-use site that makes money from advertising. We have a modified experience for viewers using ad blockers

Wikia is not accessible if you've made further modifications. Remove the custom ad blocker rule(s) and the page will load as expected.