Adult No CWs More Information - "FWA (Farm War Alliance)" :-
Welcome to the Adult No CWs #P9CGYPG Clash of Clans Site :-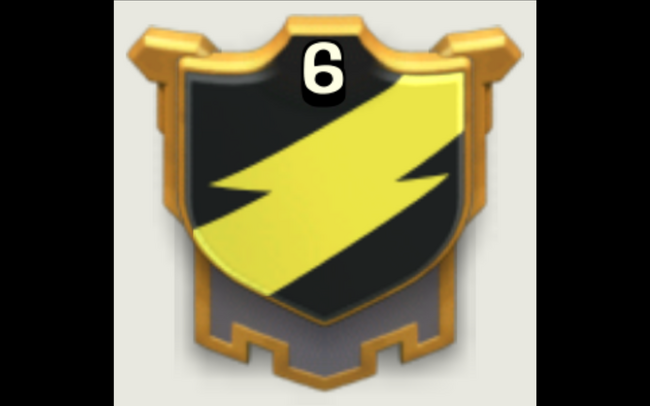 About Us :- 
Always respect the request, keep donation ratio better than 1:1 Give:Take.
"To Join :- TH9+, LVL 100+ & Friend in Need complete". 
No in & out. We don't give a rip about your friends clan. Feel free to invite friends/family in for a quick stop for troops. Build your Exact (all items in exact placement) Alliance war base immediately upon joining, flash it to your regular base so a CO can review it before war.
LVL 6 Clan Perks Clan :- 47 Wins !
Push status :- Currently FARMING
War - FWA (Farm War Alliance) :-
We are a proud member of FWA (Farm War Alliance), there are currently 120+ clans included in FWA. FWA members sync war starts in an attempt to match with each other. Our clan has matched with Alliance members 4 of the last 4 wars! All Alliance members have the standard easy 3 star layout. When Alliance members do match, their Clan Tag determines the winner.
See :-"Alliance Standard Base Info" & "So Who Wins When Alliance' Members Meet?" Sections for more specific information.
Alliance Standard Base Info
FREE AREA :-
This portion of the base guarantees a 2-star attack for minimal troop cost. It should contain :-

Attacking only this half of the base guarantees a star for the destroying the town hall, and a 2nd star for 50% overall destruction. 
MINION AREA :-
This quadrant is designed to be defeated at minimal cost by a couple of minions. It should contain :-
all X-bows (set to ground only)
GIANT AREA :-
This quadrant is where the remaining defenses are to be placed, and is the only section where actual effort is required to complete a 3-star attack. It should contain :-
all inferno towers (set to single target)
TRAP AREA :-
This area should be near the center of your base, or at the very least somewhere between the MINION AREA and the GIANT AREA. Please surround your traps with walls, to eliminate the possibility of enemy troops triggering them. 
all air bombs skeleton traps (set to air)
Farm War Alliance Rules
The Farm War Alliance (FWA) is a group of over 120+ clans that sync the start of their wars at the same time to try and match each other in war. When two war farming clans match, each side maintains easy to beat war bases. Each player uses their first attack on their mirror for either 2 or 3 stars depending on which clan is awarded the win which is decided randomly by lottery.
Rule 1 :- No FWA clan member may go from one FWA clan to another without consent of both leaders.
Rule 2 :- All members of all clans should always have easy 3-star war bases based on these guidelines: tiny.cc/fwabases
Rule 3 :- Each clan should have an external communication group setup on BAND, GroupMe, email, kik, line, etc, for clan members to communicate with each other.
Rule 4 :- All clans must set their clan location to Lesotho and add [FWA] to their description. This does not help matching but it helps identifying each other and more importantly it helps recruiting (both into FWA and new members for each clan).
Rule 5 :- Each war is started with a high or low indicator which cycles between each value from war to war. If it cannot be agreed between FWA clans whether the war must be a draw or a win/loose situation, then the clan with the highest/lowest first character in their clan tag has the right to win. 

0 is lowest, followed by 1-9 to A-Y and finally Z which is highest

. For example, if high is called and clan #1 is #P9CGYPG while clan #2 is #8P9CGYPG, clan 1 is the winner because their first character "

P

" is higher clan 2's "

8

". See This Cheatsheet Guide
Rule 6 :- When the high low decider is enforced, the loser has the right to go up to 85 stars and no more.
Rule 7 :- There is no letter O or o there is only the number 0 (zero) in a clan tag. All letter o will be regarded as the number 0 (zero).
Rule 8 :- The clan that has the right to win does NOT have the right to request a tie, if your clan does not want to win then they must give the right to win to the other clan. The other clan can then offer a tie if they wish.
Rule 9 :- If there are either more than 5 non easy 2 star layouts and/or more than 10 non easy 3 star bases in your clan you can no longer be part of the FWA.
So Who Win When Alliance Members Meet ?
Each war is declared by the Alliance as a High Clan Tag win or as a Low Clan Tag win.
Winning clans can take as many stars as they wish, although we stop at 90 as this is sufficient to win and gain maximum XP without any troops costs. 90 can be obtained by 2 starring the standard Alliance base with just the use of heros Or just your clan castle troops.
High/Low = Clans must look at their Clan Tag first letter or number to see who take the win. Zero is lowest number, A is the lowest letter. 0<9<A<Z.
War Sync High Example :- Clan 1's Tag is #P9CGYPG & Clan 2's Tag is #8P9CGYPG. If a High war is called, Clan 1 takes the win. Their first letter/number is P which is higher than 8.
War Sync Low Example :-  Clan 1's Tag is #P9CGYPG & Clan 2's Tag is #ZP9CGYPG. If a Low war is called, Clan 1 takes the win. Their first letter/number is P which is "Lower" than Z.
Losing clans can take 81 stars, enough to gain maximum XP available without the win.
FWA Web Site Link :-
Here is a direct link to the FWA site, it contains more information including Alliance Rules.
FWA Website CLICK HERE ==> http://www.farmwaralliancefwa.tk
Exclusion List :-
Exclusion List Of Players  :- Is Clash Of Clans Players That Are Banned For Life From All FWA Clans. As we would prefer not to have in the clan, please do not apply.
Reason Codes:
(1) Could not create an acceptable base
(2) Could not follow war instructions (i.e. Attacked wrong base, Attacked out of order, Attacked for wrong number of starts)
(3) Was vulgar and/or derogatory towards the clan/another member/the Alliance
(4) Gameplay which improperly represents the Alliance (bots, hopping...)
​First FWA War Win In Pics Below :-
​First FWA War Lose In Pics Below :-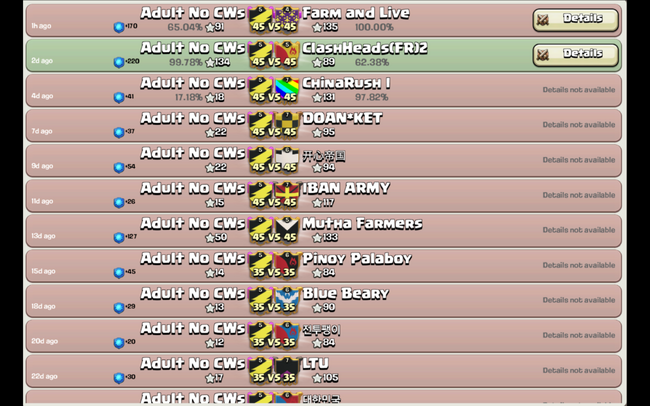 OTHER IMPORTANT WEBSITES/WEBLINKS :- 
CLASH Of Clans - Adult No CWs - Clan :-
Clash Of Clash Adult No CWs -Informations For Our War Opponents :-
Adult No CWs - Clan Join Here :-
Adult No CWs More Information - "FWA (Farm War Alliance)" :-
Adult No CWs - BAND App Chat :-
Short Link To This Web Page :- 
Ad blocker interference detected!
Wikia is a free-to-use site that makes money from advertising. We have a modified experience for viewers using ad blockers

Wikia is not accessible if you've made further modifications. Remove the custom ad blocker rule(s) and the page will load as expected.