I been playing Clash of Clans for just about as long as it has been out. Though Im not a big Gemmer, I have time to be on daily after work and during my breaks. I been a leader for over 10 months of a clan named KING KONG. We are a tight-nit group of mostly Americans adults with a few teens and a few abroad. We were the first clan named King Kong respectfully and are soon to be in top 300-500 in rank. Below, I have attached a pic of my base, please feel free to make any comments.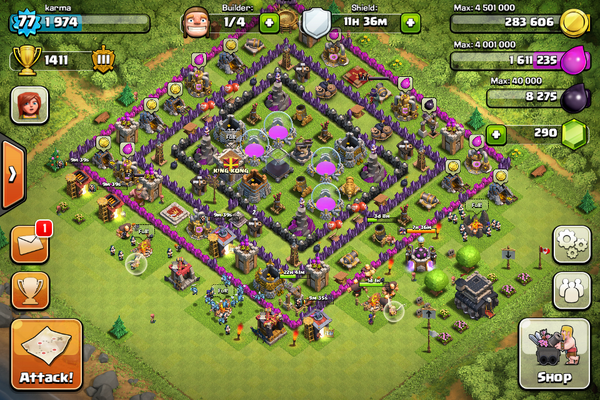 Some updates I would like to see in the game are:
 being able to goto member clan castle (cc) to donate troops.
Not allow elders to kick but invite.
be able to upgrade builder to build faster.
Please feel free to add to this list.
Ad blocker interference detected!
Wikia is a free-to-use site that makes money from advertising. We have a modified experience for viewers using ad blockers

Wikia is not accessible if you've made further modifications. Remove the custom ad blocker rule(s) and the page will load as expected.