Hello All Clashers
I have started a new Clan Call Samurai Panda ®, We are a new clan and searching for Loyal Members to help us. We are not warring at this point, till we can find loyal mature adult players. So i hope to here from you and hope you join us and make OUR clan stronger and better than ever.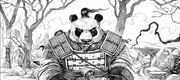 Have a Nice Day
Kuwalch
Ad blocker interference detected!
Wikia is a free-to-use site that makes money from advertising. We have a modified experience for viewers using ad blockers

Wikia is not accessible if you've made further modifications. Remove the custom ad blocker rule(s) and the page will load as expected.