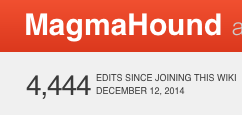 This is a pretty nice number for an edit count. Four fours, there's no more opportunity because "Five Fives" comes at 55,555 which would take years.
So Ima just enjoy my four fours. Oh wait, it just got bumped up to 4,445 as I uploaded this pic. NOooooo... :(
Speaking of which, I think it has been forever ever since I got 4K... yeah I'm less active now :/
Ad blocker interference detected!
Wikia is a free-to-use site that makes money from advertising. We have a modified experience for viewers using ad blockers

Wikia is not accessible if you've made further modifications. Remove the custom ad blocker rule(s) and the page will load as expected.