This page has been locked.
Only staff members may add content to this page.

Throughout the course of time, Supercell  has introduced many updates. Each one fixing bugs, trying to balance raids and/or introducing new items, upgrades or features.
Version 5
Version 5.113.2 - 5th December 2013 "X-Mas & Loot change"
Winter is here
Enjoy the snowy sights, sounds and hunt for elusive jingle-bearing trees
Limited time special defense: Santa Strike! Call in an air strike of explosive presents (but what is inside the boxes?)
Reworked Inferno Tower is hotter than ever
Brand new multiple target mode launches a blazing web of flames against several troops at once, but the flames will not charge up in this mode
Troops targeted by the Inferno Tower are no longer able to be healed. Use multiple target mode to seriously hinder healing reliant armies
Switch between the classic single target or new multiple target mode at any time
Inferno Tower level 3 will help keep you warm this Winter
Revamped looting
Percentage of loot available now decreases based on defender's town hall level
Maximum amount of loot available now increases based on defender's town hall level
Loot bonus when attacking opponents at higher town hall levels has been removed
Check out the Clash of Clans forum for much more information about these changes!
Interface and feature improvements
Clash is now fully localized in Korean!
Village Edit Mode: New base layouts in-progress will be automatically saved and resumed if the game restarts
Added "Training capacity" to barracks info and upgrade screens
Unarmed traps are now indicated a by a smoke effect instead of text bubbles
Arabic text input has been improved
Balance tweaks
Many more bug fixes, tweaks and performance improvements
[Taken from the v5.113.2 update item on the Supercell announcements forum.]
Version 5.6.4 - 6th November 2013 "Trap Upgrades"
Reworked traps
Sick of puny bombs? Upgrade all of your explosive traps to blow up your foes bit time!
Even sicker of constantly replacing your traps? Traps now stay put after use, and can be fully re-armed with a single button!
Level 1 Giant Bomb is now much cheaper, though with a slightly decreased damage radius that can be upgraded.
Bomb and Giant Bomb explode faster after being triggered.
Seeking Air Mine and Air Bomb trigger radius has been decreased.
Seeking Air Mines now cost Gold instead of Dark Elixir.
Why?

Replacing traps always took a lot of time, and we've certainly experienced that ourselves. In this update, traps will remain right where you placed them, even after they are triggered. You will be able to rearm, and also upgrade your traps (besides spring traps). We believe this will make for more challenging raids while improving your chances on defense. If you've been avoiding traps, it's time to be blown away!
Tier 1 terror in Town Hall 10
Level 12 Archer Towers: stylish, deadly and oh so sharp.
Level 6 Goblins: never forget your wallet again, nor anyone else's.
Why?

The Level 12 Archer Towers may look a bit different than in the Android release video! Level 6 Goblins were one of the most requested troops out there, and we've added this epic gold monger for TH10.
Unquenchable spells
Get your spells in a snap! Spell Factory boosting is now only 20 gems for 4 hours of boosting.
Why?

You wanted an improved, and more useful spell boost. We felt that a 4 hour boost would be effective for those going on offense. We've also seen that for players of all levels Gold was hard to come by, while there was an overabundance of Elixir. Elixir is now for attacking, gold is for upgrading and defending your village! We wanted to make that division quite clear!
Clan and Interface improvements
Players who are kicked out of or rejected from clans are automatically banned from that clan for 24 hours.
Why?

Adios, spammers. This frequently requested addition will help by making it easier to run your clan. Leaders and Elders can use "Invite" feature to get a banned player into the clan.
Tapping the active tab in the Inbox, Chat, Clan, Leaderboard, League or Search view will automatically scroll it to the top.
Balance tweaks
TH loot multiplier is now capped at 1.5, even against 3 TH levels above or higher
Why?

We believe this will help higher level players hold on to more loot. Specifically, it will address the issue of higher level players losing DE to lightning spells, making this strategy much less beneficial.
Slightly increased hitpoints for level 4 Dragon.
Why?

Increased trap usage after this update, especially with seeking air mines, means our flying friends need a bit of a boost to remain viable.
Why?

They are tons (literally) of fun to use, but haven't been used much in raids lately. These changes make them even more hefty. Give them another look!
Why?

Combined with shorter fuses on the bombs and a decrease in hit points, Hog Riders will be easier to make into bacon, and everyone (except for vegans, vegetarians, pescatarians, the religious, etc.) loves bacon!!! This should lead to players having to be a bit more strategic with their Hog Rider pals.
Why?

Level 6 gobs for one. And because "slow is good" may be a company mantra, but doesn't have to apply to defense upgrades.
Lots more bug fixes, tweaks and performance improvements!
[Taken from the v5.6.4 update item on the Supercell announcements forum.]
Hidden Changes:
Version 5.2.2 - 10th October 2013 "Unforced Update"
This new, unforced (for the first time ever - history in the making!) Clash Update has a couple minor fixes:
Bug fixes for Village Edit Mode
Bug fixes on iOS7 Text input
[Taken from the v5.2.2 update item on the Supercell announcements forum.]
Version 5.2 - 30th September 2013 "Village Edit Mode"
Clash of Clans now officially supports iOS 7.
Brand new village edit mode
Clear the clutter! Pick up all buildings and Walls at once and design your village from a clean slate.
Quick and precise building placement by dragging from inventory.
Place many Walls at once by selecting a wall piece, then dragging along the wall guide markers.
Edit Mode is unlocked after you reach Town Hall level 4.
Halloween scares
Can you find all the tricks and treats? You might be shocked!
Boogeymen at work: for a time, Spell Factory boosting is vastly longer and for only 1 gem!
Mortar mayhem
Pummel your foes with the level 8 Mortar.
Clan improvements
New troop request indicator in Clan chat: tap the indicator to scroll down to the latest pending troop request.
Changed Elder Kick cooldown to be 20 minutes.
Balance tweaks
Many smaller fixes and tweaks!
[Taken from the v5.2 update item on the Supercell announcements forum.]
Version 4
Version 4.120 - 27th August 2013 "Player Profile"
Brand new Player Profile feature
See XP level, league badge and trophy count all in one place.
Includes achievement progress, clan status, league wins and troop donations.
Hog Rider rework!
Damage increased: the Hog Rider now packs a heavier punch with his sledge hammer!
Hogs now have personal trainers to get them in jumping shape, reducing Hog Rider training time.
New spell, unit and building levels
New clan features
Trophy requirement to join a clan can now be up to 3,600 trophies.
Added cooldown for Elders kicking out Clan Members
Three of the most challenging, most rewarding achievements yet!
League All-Star: push your league progress to the limit and earn our highest ever gem rewards!
Firefighter: destroy the dreaded Inferno Towers and get handsomely rewarded.
Interface Improvements:
Replay sharing improved: shared replays now show loot, trophies and can include a custom message.
Achievement progress is now tracked even after an achievement is fully completed.
Chat can be scrolled all the way to the top by clicking on the tab above it.
Game Balance
Many smaller fixes and tweaks!
[Taken from the v4.120 update item on the Supercell announcements forum.]
Hidden Changes:
Level 6 Wall Breakers' Bomb become a Barrel Bomb.
Global Chat and Clan Chat highlighted when you receive a new message and the scroll is down.
Maintenance - 9th August 2013 "1st Anniversary boost ends"
Today's maintenance break will end the 1st Anniversary boost, I hope you all enjoyed it!! We will also make two tweaks while in maintenance:
Resource collector Boost will be improved (cheaper, lasts longer)
Giant Bomb will be improved (cheaper, more damage)
[Taken from the Maintenance 9-8-2013 item on the Supercell announcements forum.]
Version 4.74 - 29th July 2013 "The Witch"
New unit: the Witch! Skilled in the dark art of necromancy, the Witch reanimates the skeletons of dead warriors. Commanding her undead horde, she's a fearsome sight in battle!
Dark Barracks level 5 upgrade available, unlocks the Witch.
Knock down immovable objects with the unstoppable force of level 6 Wall Breaker!
Share your coolest battle replays with your clan members in clan chat! You may share one replay with your clan every 30 minutes.
You can now temporarily mute a player in global chat. Their messages won't be displayed on your screen.
Top Players leaderboard now displays "Attacks Won" and "Defenses Won" statistics, similarly to League rankings.
Your opponent's name and clan are now visible during a replay.
Decreased Hog Rider's housing space requirement from 6 to 5.
Increased Valkyrie's attack damage (all levels).
Decreased Valkyrie's training cost (levels 1, 2 and 3).
Decreased the upgrade cost of Dark Barracks (levels 2, 3 and 4).
Many other small tweaks and fixes.
[Taken from the v4.74 update item on the Supercell announcements forum.]
Hidden Changes:
Version 4.54 - 24th June 2013 "Gold Mine & Elixir Pump for TH10"
[Taken from the maintenance item on the Supercell announcements forum.]
Version 4.53 - 17th June 2013 "Freeze spell & Japanese"
This update brings an exciting new battle spell, Japanese language support and more!
High Level Magic
Advanced Warfare
Interface improvements
Japanese language setting now available.
Added speed up option to next Clan Castle troop request.
Players can now attach a custom message to a clan troop request.
Performance was increased with multiple optimizations.
Text sharpness improved.
Battle will not end automatically if player has unused Clan Castle troops or Lightning Spells.
Improved profanity filter for many languages.
Balance tweaks
Also many small bug fixes and tweaks!
[Taken from the v4.53 update item on the Supercell announcements forum].]
Version 4.14 - 23rd May 2013 "Town Hall 10 - the Fiery Fortress"
Introducing Town Hall level 10 - the Fiery Fortress
Brand new defensive building: Inferno Tower!
The Inferno Tower shoots a jet of flame that burns through even the thickest armor.
The flame takes a while to heat up, making it most effective against the biggest and baddest troops.
Stop Heroes, P.E.K.K.As and Golems in their tracks, and shoot Dragons out of the sky!
Be careful: the Inferno Tower can be overwhelmed by a swarm of smaller targets.
Unlock powerful new upgrades with Town Hall level 10:
Attack log and replays!
Watch replays of your attacks.
See a log of your attack history with a record of loot and trophies captured.
Show your most dominant victories to friends and family.
Analyze your toughest fights and improve your skills.
Level 8 Laboratory: better, faster and stronger than ever!
Unleash the ancient Red Dragon (Dragon level 4).
Rock on with Golem level 5.
Support the troops with Healer level 4.
Interface improvements
Chinese language setting is now available.
Hugely expanded keyboard support. Write in any language!
Smileys and other emoji characters supported in chat! Add the special Emoji keyboard in your device settings (General > Keyboard > Keyboards > Add New Keyboard).
Quickly browse through Barracks, Dark Barracks and Spell Factory screens by tapping arrows.
Number of clan troops received is now shown in addition to the number of troops donated.
The center of your village is now marked with a plaque.
Personal breaks enforced for players who stay continuously in-game for very long periods of time.
Balance tweaks
Also many small bug fixes and tweaks!
[Taken from the Supercell forum.]
Version 3
Version 3.124 - 17th April 2013 "Leagues"
Introducing Leagues: compete in your own division!
Joining a League is easy: just own 400 trophies or more!
Get a Loot Bonus out of every victory just from being in a League!
Loot Bonus increases the higher you climb in the Leagues.
New unit, defenses and building upgrades
Clan improvements
Clan Leader is now able to send messages directly to Clan Members' inboxes.
Chat message formatting overhauled.
Clan tournament length increased to two weeks, reward doubled.
Troop donation statistics now reset every other week.
Clan troop donation information is now visible to all players, not just Clan members.
Usability improvements
If Clan Castle has space for more troops, "Request" message displayed on top of it.
Added option for rotating a Wall section.
Added confirmation dialog when speeding up unit and spell upgrades.
Attack notification improved for players playing with multiple devices.
Balance tweaks
Also many small bug fixes and tweaks!
[Taken from the Supercell forum.]
Version 3.54 - 12th March 2013 "Dark Elixir Troops"
Get ready to unleash the true power of Dark Elixir...
Introducing the mysterious Dark Barracks and ultra cool new Dark Barracks troops!
Having trouble with walls?
Improved Wall Breaker training techniques have revolutionized the cunning of these fearless demolitionists. Wall Breakers now maximize the potential of each and every bomb, avoiding decoys and distractions.
These crafty new Wall Breakers demanded a bit more elbow room, so they now take up two camp spaces.
Usability improvements!
Players now have an option to move multiple wall pieces at one time. Yay!
A new laboratory screen lets you browse available upgrades even while an upgrade is already in progress.
Ever wondered how much loot can you get from single players levels? Well now you can find out, just by tapping the map.
The Battle Results screen now shows your loot with spaces between numbers (100 000 instead of 100000).
A handy total destruction percentage is now included in the battle log.
If a Barracks is being upgraded, its queued troops no longer count towards the "Troop capacity after training" count in the Barracks' training screen.
Super Performance!
Our code wizards have made the game run silky smooth, even at the high levels. This means better control over battles.
Improved game balance!
[Taken from the Supercell forum.]
Hidden Changes:
Version 3.25 - 5th May 2013
Cool New Leaderboards
Climb to the top of your Clan; see who's on the rise and who's falling.
New local Leaderboards: who's the best player in your country?.
Clan members who recently joined tagged as "New".
Supersize my Leaderboards! More players now fit onboard.
New unit upgrades!
Air-tight air defense!
Hero improvements!
Heroes recover health faster thanks to the Alchemists' new sleep potion.
Hero level and stats are now displayed correctly when visiting villages.
Heroes now patrol a larger area and show guard radius when tapped.
Gameplay improvements
We discovered that metal armor conducts electrickery! P.E.K.K.A is now a priority target and receives extra damage from Hidden Teslas.
Spell creation times reduced - blast more magic more often.
Notification when your troops are ready for battle (Army Camps full).
Wall levels 9 and 10 strengthened: hold off the rampaging hordes for longer.
Shop now notifies when new items are available.
New Achievements: Heroic Heist and Mortar Mauler.
Lower reload costs for X-Bow levels 2 and 3.
Tapping a trap shows its trigger radius.
Version 3.3 - 10th January 2013
Heroes!
Introducing Clash of Clans HEROES: The Barbarian King & The Archer Queen!
Heroes are immortal! Unlike other troops, they will not perish in combat. If they are injured, they can simply sleep it off
Dark Elixir
Cool New defences
Two new X-Bow upgrade levels for maximum firepower.
Two new wall upgrade levels: "Spikes of Pain" and "Flaming Magma".
Know your clan members
Find out who are the most valuable members of your clan! Clan members now get a troop donation score (counted as Clan Castle housing space filled).
Also, the "Friend in Need" achievement now counts donated troops in terms of Clan Castle housing space filled.
Added new limits for the clan trophy requirements. 3000 is the new maximum.
Balance modifications & bug fixes
Stockpile more Gold and Elixir! New storages added to Town Hall level 9.
Barracks level 8 upgrade cost reduced by 30%.
X-Bow range decreased to 11 tiles in Air & Ground mode.
X-Bow ammo capacity decreased by 25%.
X-Bow loading cost displayed in the info screen.
The Winter is over! Santa Spell and Unpleasant Present removed. And it has stopped snowing!
You can now tap and hold the Create Spell button to queue spell production.
Update Review:
[[File:3.3 Update! Heroes, Dark Elixir, and the Death of Christmas - January 2013|thumb|center|555 px]]
Version 2
Version 2.111 - 11/19/2012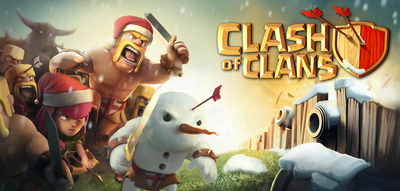 Introducing Clash of Clans limited time Winter special!
Winter theme complete with the best snow fall effect ever seen!
Surprise your enemies with the Unpleasant Present! Special gift-wrapped explosive trap.
New spell: Ask Santa to deliver a devastating bombardment to your enemy's village.
Rare X-mas tree, can you spot it?
Huge improvements to matchmaking!
Offered matches will now be a lot better and closer to your own trophy count.
Queue system added! Less hitting of the "Find a match" button.
New system will work much faster than before.
Big permanent improvements
Are you in a hurry? Now you can Boost up your resource buildings (starting up at level 5), Barracks (starting up at level 4) and Spell Factory
Leaderboards now shows daily rank changes, see who rises and who falls.
Introducing Army Camp level 7, now you can create even bigger armys!
Attention Town Hall level 9 owners! You can now build an additional Cannon!
Added more space to the village to make it easier to move things around and build bigger villages.
Decorate your village with the Statue of P.E.K.K.A! Only available to players above level 75!
Defending Clan Castle troops have learned how to jump over Walls, just like the villagers do.
Balance changes and other fixes
Town Hall hit points were increased.
Healer hit points increased.
P.E.K.K.A level 2 and 3 hit points decreased.
Clan Castle shows activation radius once again.
Version 2.86 - 10/27/2012
Get ready for the HALLOWEEN EXTRAVAGANZA
Magic is in the air! You can now create spells faster than ever before.
Tricks! Brand new Pumpkin Bombs available for limited time only.
Treats! We increased the amount of gems in some gem packages.
Witches and Monsters! Training cost of Wizards, Dragons and P.E.K.K.As decreased.
Town Hall level 9 added!
Bug fixes and other changes
Find your biggest rivals with Clan Search.
Removed the option to sell buildings.
Fixed rare bug that caused build times to be off-sync with shield times.
Fixed a bug that player and alliance trophy counts to be displayed differently.
Version 2.73 - 10/15/2012
Chat improvements
Global chat is now moderated! Report offensive messages by tapping them and choosing "Report".
Improved profanity filter for global chat creates a nicer and safer chatting environment.
Clan Improvements
You can now set minimum amount of trophies required for your clan. Players won't be able to apply if they don't meet the minimum requirements.
Added notices to Clan chat when members are promoted, demoted, join or are kicked out of the clan.
You can now send a personal message when you kick someone out of your clan.
Other changes:
Players with lower Town Hall levels now lose less resources when attacked by higher Town Hall level players (2 level difference or more).
There is now a short no-attack period after maintenance breaks to allow players to log back in unperturbed.
Added an extra confirmation step when loading village from Game Center to avoid accidents.
Version 2.44 - 09/18/2012
Full support for iPhone 5 and 5th generation iPod Touch.
Big new feature: Spells! (Spell Factory unlocks on Town Hall level 5).
Introducing three spells: Lightning, Healing and Rage Spell
Replays added to Battle Log! Now you can see what happened when someone attacked your village.
Added Wizard Tower unlock to Town Hall level 6 and another Hidden Tesla to Town Hall level 8.
Matchmaking now gives you better matches and works faster.
Troop upgrades are now visualized.
Many visual effects were improved.
Support for iOS 6 Game Center challenges.
Shop and Battle Log redesigned for iPhone and iPod Touch.
You can now view helpful hints while the game is loading.
Added 3rd upgrade level for Dragon.
Fixed the troop donation bug.
Troop training and housing mechanics improved.
Canceling building upgrades does not give the full price back anymore.
Building Walls is instant but requires available worker.
Combat balance tweaks.
Confirmation popup when speeding up building construction and upgrading.
Players gain a very short Shield if disconnected from the server unintentionally.
Server now runs battles to the end if user gets disconnected during battle.
You can now view the clan before you accept the invitation.
Version 2.21 - 08/30/2012
Introducing new shocking defense unit: Hidden Tesla (unlocks on Town Hall level 7).
You can now see traps when visiting own clan members.
New Visual effects (Dragon Attack, Wizard Tower attack).
New decoration flags for: Sweden, China, Norway, Thailand, India, Australia, South Korea, Japan.
Added FAQ and forums.
Improved Healer AI
Spring Trap doesn't affect to P.E.K.K.A anymore and her speed has been increased.
Building regeneration times decreased.
Cooldown added to shield buying (can't be shielded all the time anymore).
Bug fix: Achievements didn't always get updated to the Game Center.
World Wide Release - Aug 02, 2012