This page has been locked.
Only registered members may add content to this page.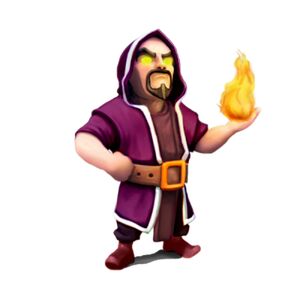 "The Wizard is a terrifying presence on the battlefield. Pair him up with some of his fellows and cast concentrated blasts of destruction on anything, land or sky!"
---
| | | | | | | | | |
| --- | --- | --- | --- | --- | --- | --- | --- | --- |
| | | | | | | | | |
| Level 1 & 2 | | Level 3 | | Level 4 | | Level 5 | | Level 6 |
---
Summary

The Wizard is a magical unit that wears a hooded cloak, a leather belt with golden buckle and matching boots.
The Wizard is very similar to the Archer in that he uses a ranged attack and can shoot over Walls. He shoots fireballs that do high damage, but requires support as he has relatively low hitpoints and can easily be killed by point defenses. Wizards are commonly used in large groups for fire support or as a force multiplier (similar to Archers), but they can also be effective in smaller numbers, especially at lower levels.
---
Offensive Strategy
Defensive Strategy

Wizards are excellent defensive Troops, as they can attack enemy Troops from behind Walls. If attacking Troops notice a Wizard emerging from the Clan Castle they will turn to attack it, even if they have to destroy a Wall segment to reach it.
As of the 12 March 2013 update, the Wizard's attack now has a splash component. This increases their effectiveness against lower-health Troops such as Goblins, Archers and Barbarians as Clan Castle Troops.
---
Upgrade Differences

Level 1-3 Wizards shoot fireballs, level 4-5 Wizards shoot lightning, and level 6 Wizards shoot fireball lightning.
At level 3, the Wizard's cloak changes from light blue to purple. His boots become bright purple as well.
At level 5, his cloak changes to dark blue, and his boots darken to nearly black.
At level 6, his cloak changes to the color of wine, his belt becomes orange, and his eyes turn a shade of yellow.
---
| Preferred Target | Attack Type | Housing Space | Training Time | Movement Speed | Attack Speed | Barracks Level Required | Range |
| --- | --- | --- | --- | --- | --- | --- | --- |
| None | Area Splash 0.3 Tile Radius (Ground & Air) | 4 | 8m | 16 | 1.5s | 7 | 3 tiles |
| Level | Damage per Second | Damage per Attack | DPS per Housing Space | Hitpoints | Training Cost | Research Cost | Laboratory Level Required | Research Time |
| --- | --- | --- | --- | --- | --- | --- | --- | --- |
| 1 | 50 | 75 | 12.5 | 75 | 1,500 | N/A | N/A | N/A |
| 2 | 70 | 105 | 17.5 | 90 | 2,000 | 150,000 | 3 | 1 day |
| 3 | 90 | 135 | 22.5 | 108 | 2,500 | 450,000 | 4 | 2 days |
| 4 | 125 | 187.5 | 31.25 | 130 | 3,000 | 1,350,000 | 5 | 3 days |
| 5 | 170 | 255 | 42.5 | 156 | 3,500 | 2,500,000 | 6 | 5 days |
| 6 | 180 | 270 | 45 | 164 | 4,000 | 7,500,000 | 8 | 14 days |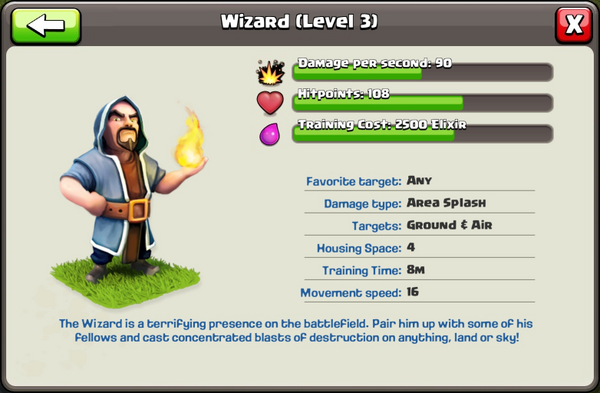 ‹
›